.
Honeymoon will retired!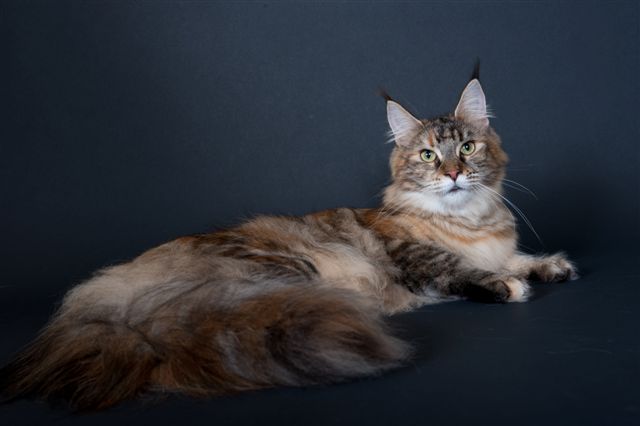 This was love at first sight. While I was looking for a new breeding female, I kept coming back to her and in the end gave in to the inevitable.
I flew to Denmark and there I found out that the feeling was mutual; that much needed "click" was there for both of us.
I didn't hesitate and took her back home with me.
She has a careful and friendly character and an elegant buildong. And then those expressive green eyes…….. just incredible!
She is very sweet and gets along with all the other cats. Thank you PIl Refstrup for trusting me and let Honeymoon goes to me.

Parents
MyBPC3 (gentest) Both negative
| | |
| --- | --- |
| | |
| RW QGC MTNest Jackman of Bearcloud | Broadsway Gloria of Bearcloud |
RW QGC MTNest Jackman of Bearcloud

HCM free at 8 december 2008

IW SGC Broadsway Redding

Kellycat Cassidy of Broadsway

Cloistercoon Lullaby of Broadsway

IW SGC Mainette PS I Love You of MTNest

MTNest Jumpin Jack Flash

Mainette Into The Mystic


Broadsway Gloria of Bearcloud

HCM free at 8 december 2008

RW SGC Broadsway Billings


Broadsway Burnham

Broadsway Arundel

Cloistercoon Charlotte of Broadsway


Cloistercoon Christian Brother

Cloistercoon Bitohoney
| | |
| --- | --- |
| Inbreeding | 19,5 |
| Foundation | 57,8 |
| Clones | 38,8 |
PKD

HCM

HD

Patella Luxatie

FIV,FelV

01-03-2010
negative

01-03-2010


negative

27-12-2009
negative
27-12-2009
negative
09-10-2009
negative
07-08-2013
negative

28-03-2012


negative

Show results
Show

Result

Judge

Haarlem 18 January 2009



Exc. 1



M. Koot


Hellevoetsluis 28 februari 2009



Best Maine Coon kitten in show

F. Hicks



Hellevoetsluis 28 februari 2009




D.Gonyea Madison

Arnhem 12 april 2009

Exc.1 of 8 kittens, a wonderful result!

U1

V. Fisher

Boxtel 14 June 2009




U3

C. Kowalczuk

Schiedam 6 September 2009




U2

I.Rohr

Fernwald 4 December

2010

CAC


F Busse

Fernwald 5 December

2010

CAC


F Costes

Utrecht 30 januari 2011

CAC

Champion !!!!


C.Knelangen