Champion Macawi Mosi Honeymoons Nidawi
( which means; Fairy)
I felt in love......
I kept this gorgeous silver tortie female!
She has a nice silver coat, lovely big ears with exc. tipps, good chin and muzzle,
a good profile with a nicely rounded forehead
and a long, well balanced body with an xxl tail.
Nidawi has a lovely temperament to match her physique;
a fairy indeed!
Birthdate: 24 - 06 - 2012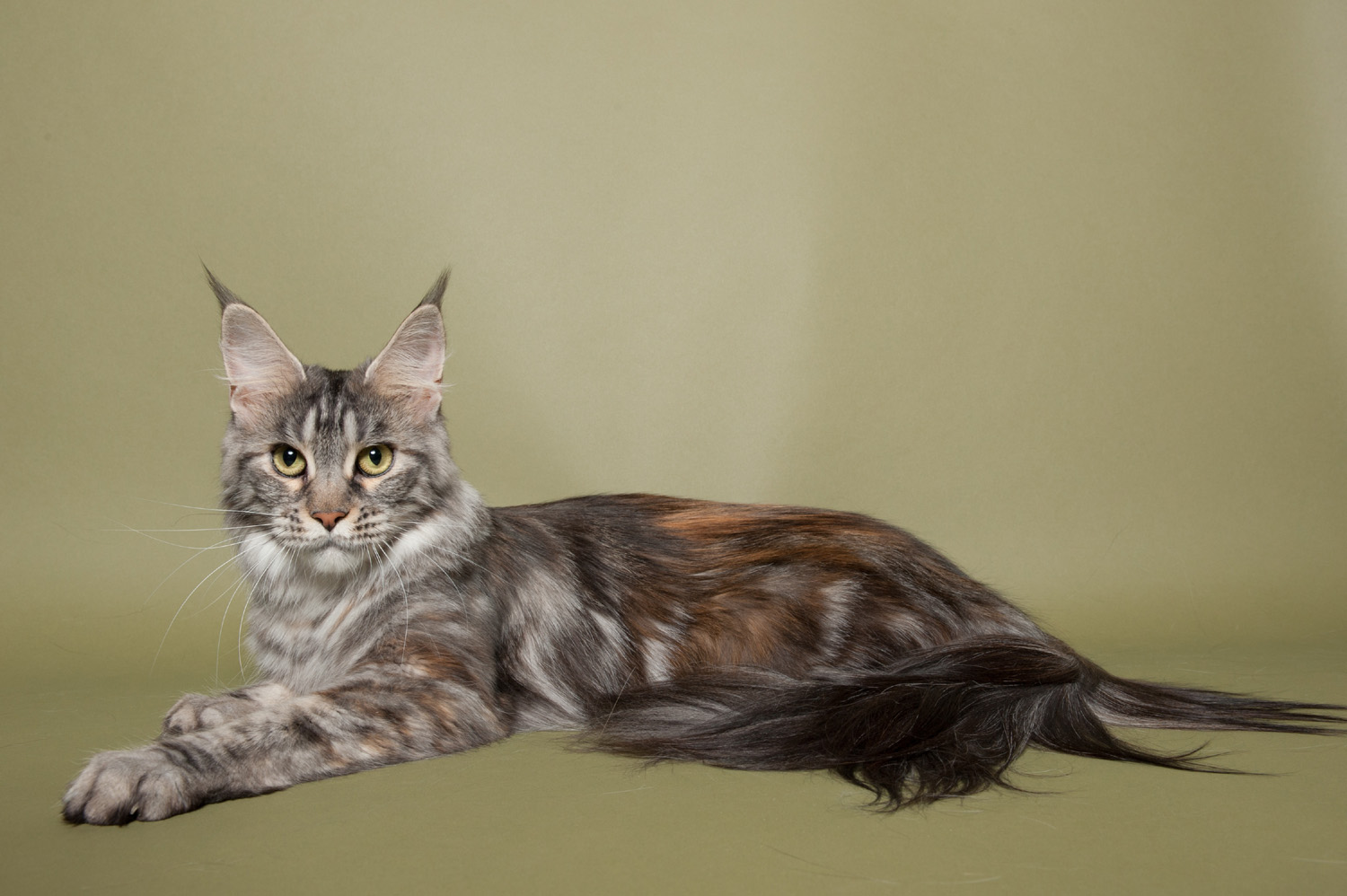 fs 22
Go to her
The parents
| | |
| --- | --- |
| | |
| EC Versus Ryusei | CH. Bearcloud Honeymoon |

Pedigree




EC Versus Ryusei

HCM, PKD, Pl ,

HCM DNA neg.

CFA Gr.Ch.RW VErsus Ice Dive

CFA GR. Ch.RW. Mainesuspect Lacoste

Gr. Ch. Coonoquan's Mariella DM

CFA CH. Versus Danae

TICA RW SGC Onocoon Anthony

CFA CH. TICA QGC. RW. Versus Laetitia

CH.Bearcloud Honeymoon

HCM, PKD, PL, HCM DNA neg.

RW QGC MTNest Jackman

HCM N/N

IW OS SGC Broadsway Redding

RW SGC OD Mainette P S I Love You

Broadsway Gloria

HCM N/N

RW SGC Broadsway Billings

RW SGC Cloistercoon Charlotte
| | |
| --- | --- |
| Inbreeding | 13,9% |
| Top 5 | 70,5% |
| Clones | 36,4% |
HCM DNA - Negative
| | | | |
| --- | --- | --- | --- |
| FelV / FiV | HCM | PKD | PL |
| | 31-12-2013 neg | 31-12-2013 neg. | 21 -12 -2013 neg. |

Show results
Show

Result

Judge

Uitgeest

Litter judgement


U1


JA.Wittich

27 01 2013

WW Houten trad.


U1

BIV, Nom, BIS !!


L.Wal

31 03 2013 FIFE Apeldoorn


U1


P.Nyman

22 09 2013

Dordrecht

CAC, BIV and NOM.

Loockx

24 11 2013 Wassenaar

CAC,

25 01 2014 Houten

CAC , BIV and Nomination

and Champion

E.v. Kuijk

16 02 2014 Uitgeest FIFE

CAC, BIV

E.Memedov