WORLD CHAMPION
( TICA CHampion)Macawi Mosi Ryusei's Nahuel
(which means: Jaguar)
- Litter brother of Namid and Nidawi -
Right after this beautiful Black Silver Smoke boy was born I knew I would like him to stay.
It was love at first sight with my " Jaq." !
Jaq has a long body with a strong boning and an xxl tail, a nice silver coat,
well placed big ears with nice lynx tips,
a strong chin and great muzzle, an excellent profile with a well rounded forehead,
great MCO green eyes and a beautiful feral look.
He has a strong and gentle character.
D.O.B: 24 -06 - 2012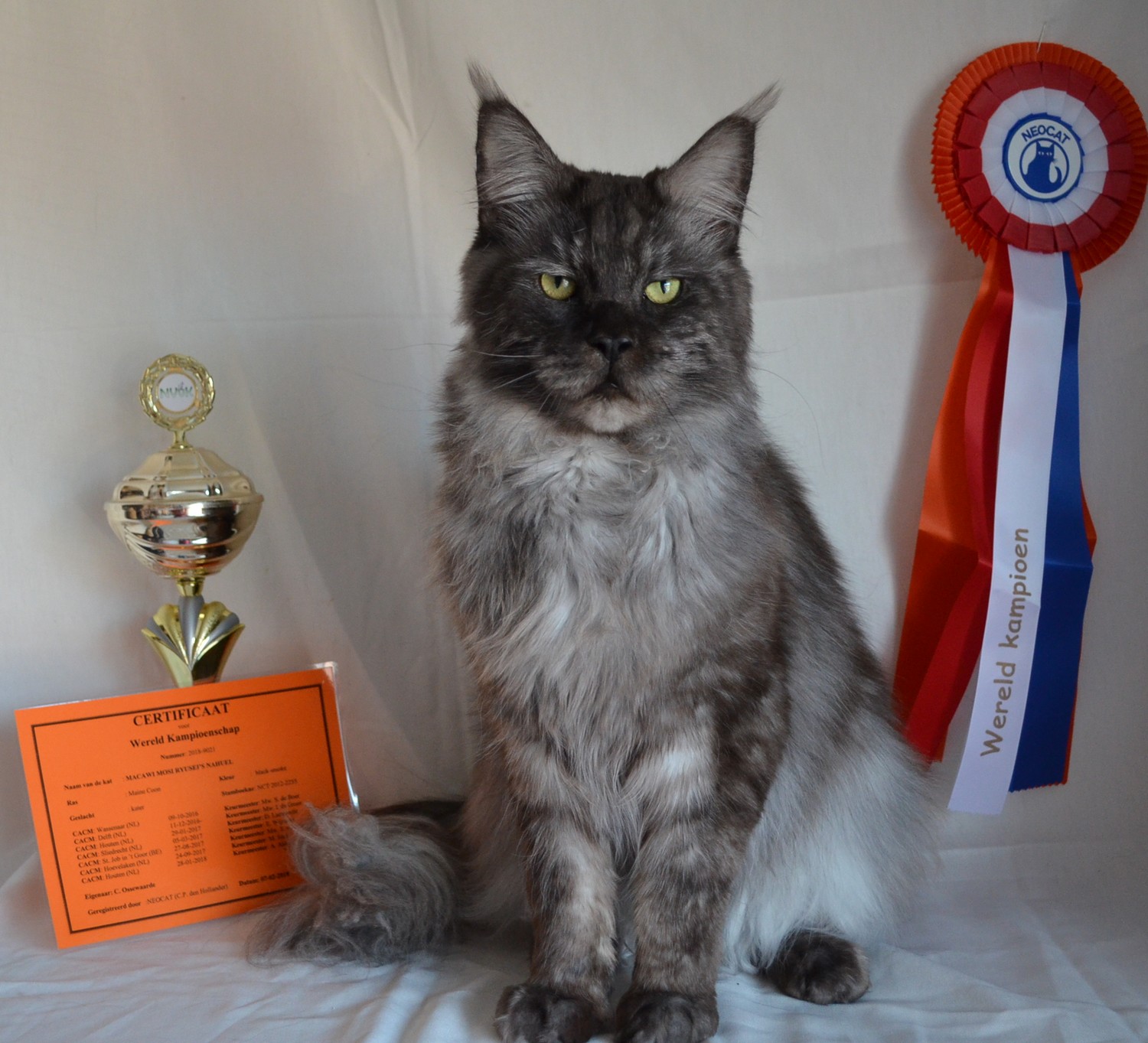 Jaguar on the cover and in the Neocat Magazin in June 2016!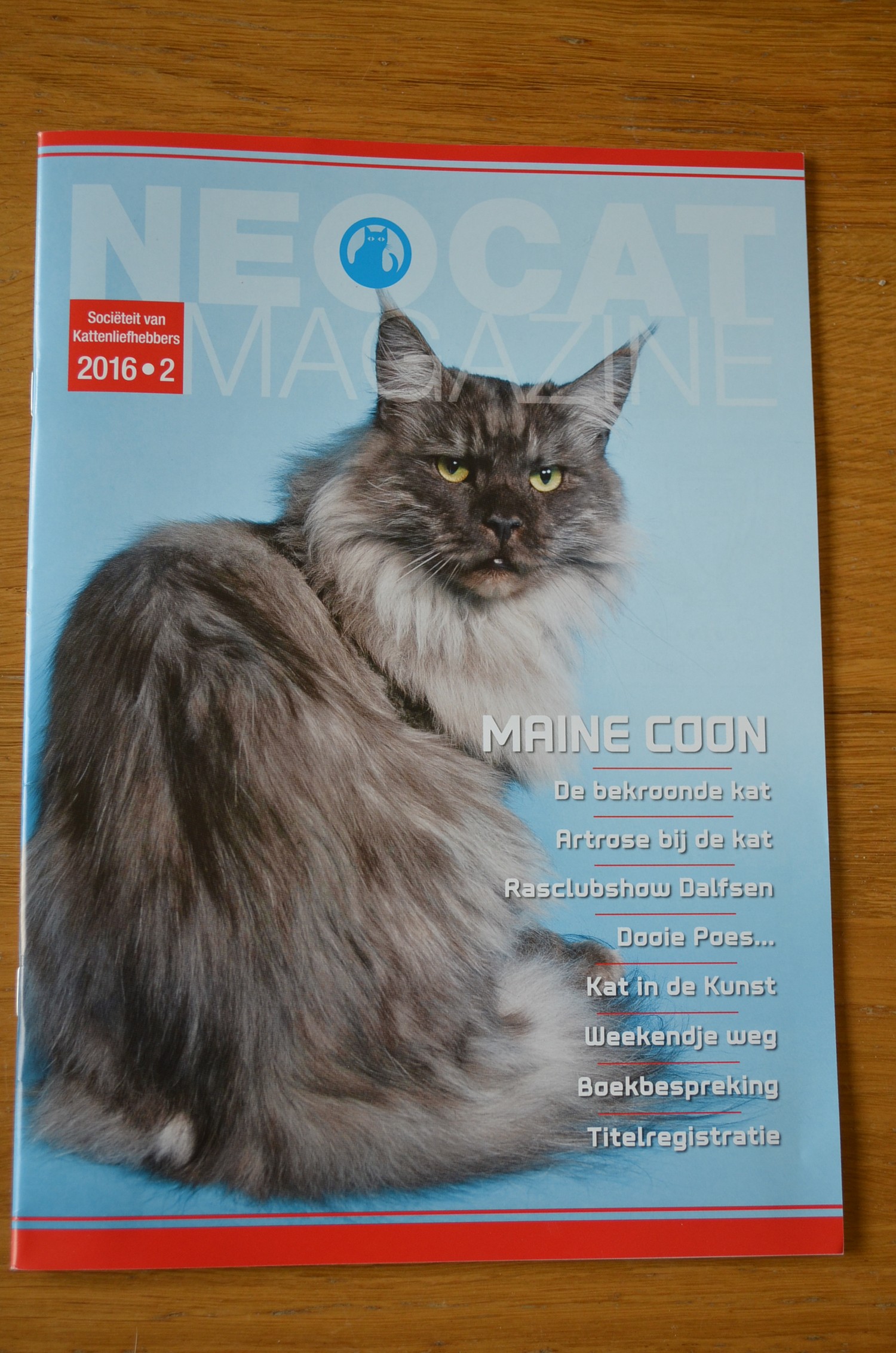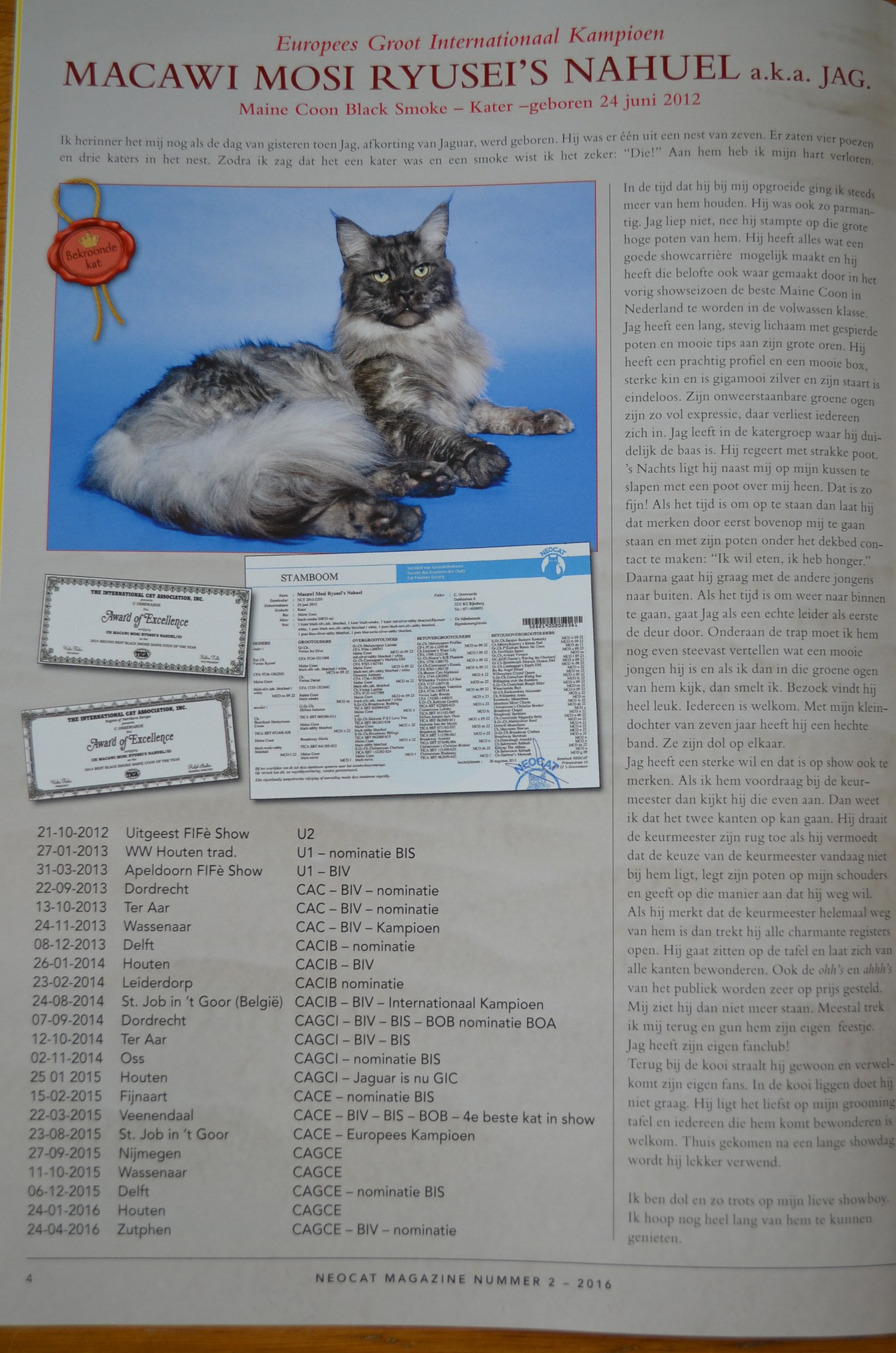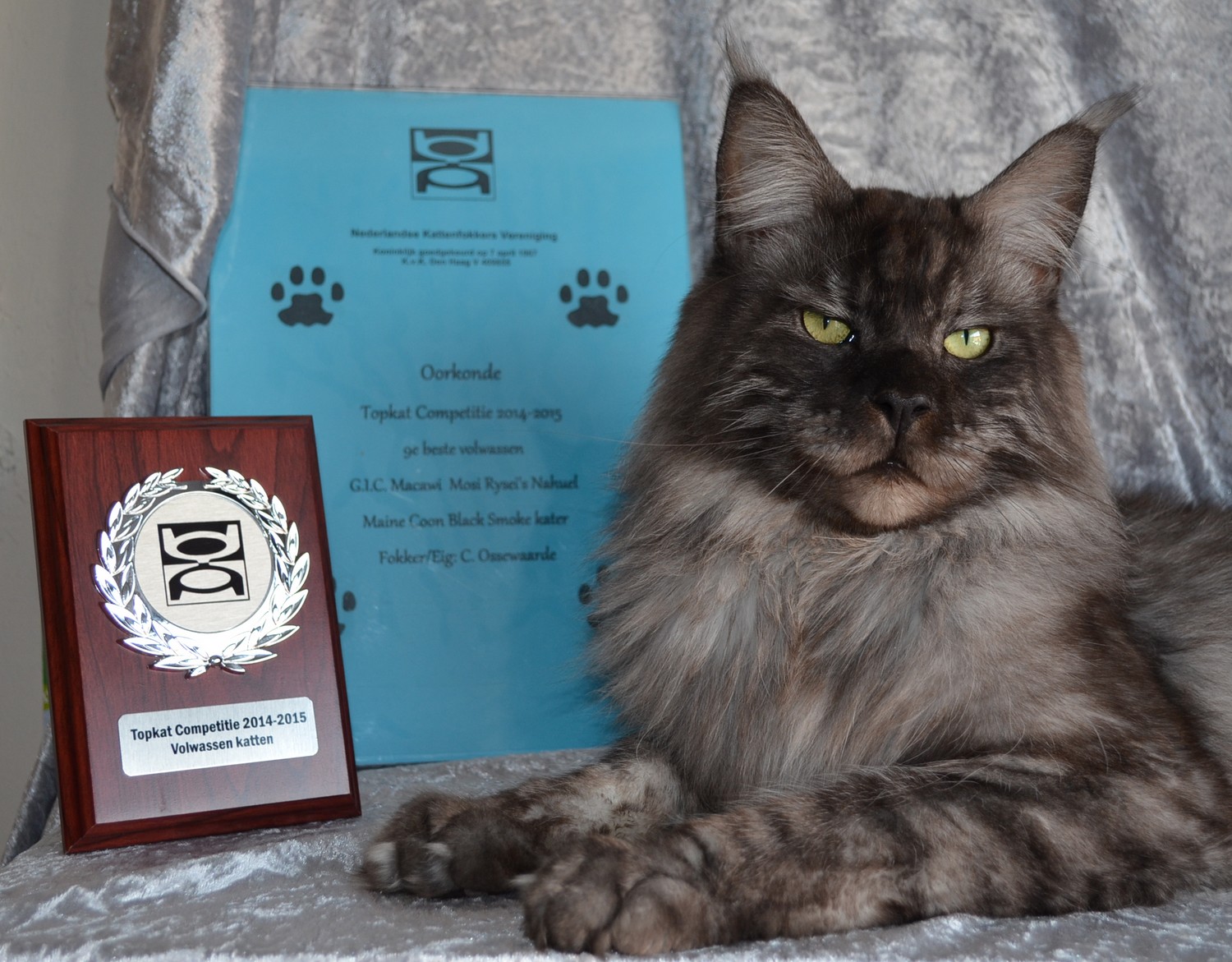 Jaguar is the number 9 topkat of the adult classe in the showyear 2014/2015 at the FNK org. There are no Maine Coons with a higher rank as he has.
Jag. is the number 1 adult Maine Coon in The Netherlands!!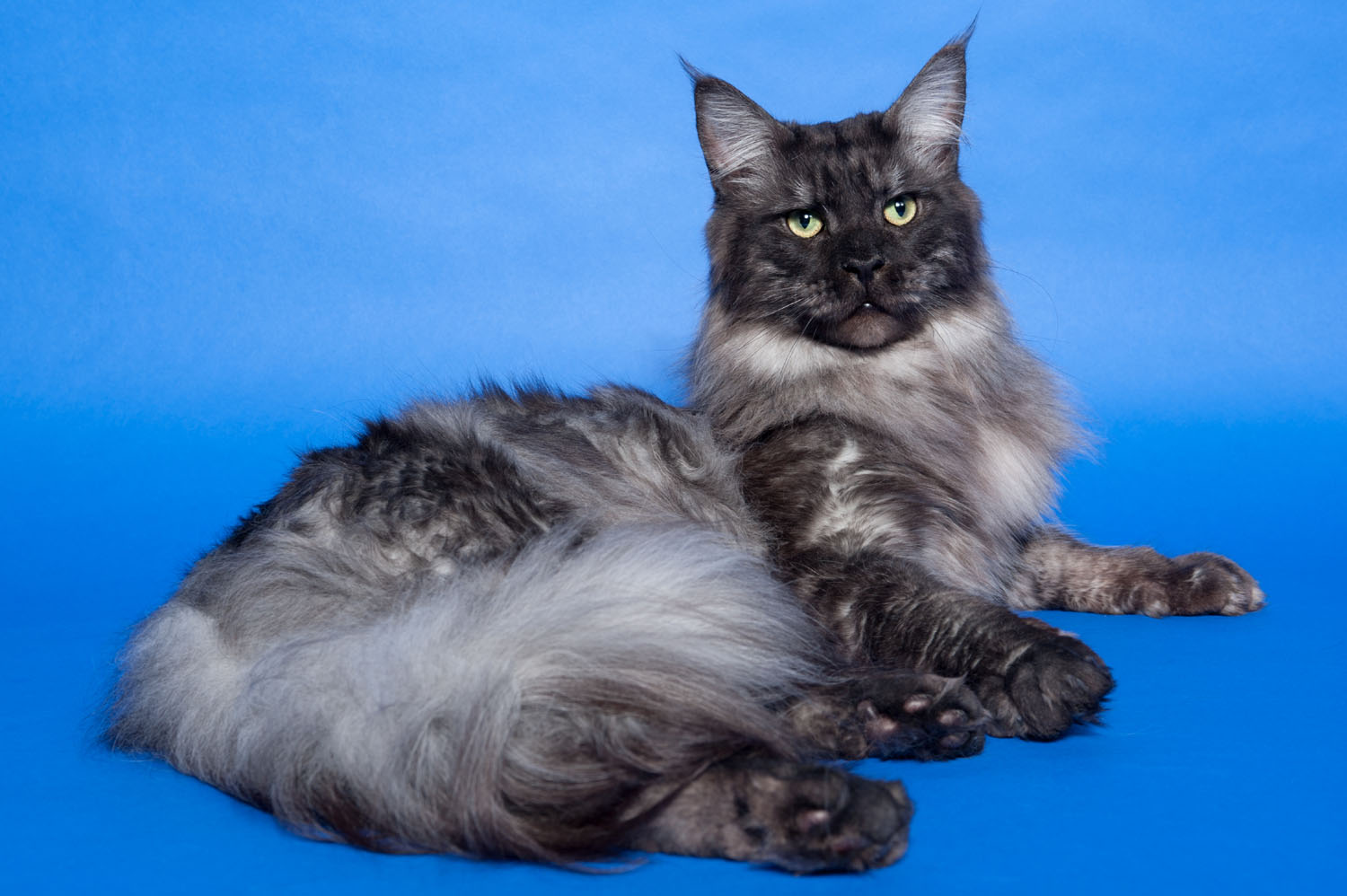 ns
Go to his
The parents
| | |
| --- | --- |
| | |
| EC Versus Ryusei | CH.Bearcloud Honeymoon |

Pedigree




EC Versus Ryusei

HCM, PKD, Pl ,

HCM DNA N/N.

CFA Gr.Ch. RW. Versus Ice Dive

CFA GR. Ch. RW. Mainesuspect Lacoste

Gr. Ch. Coonoquan's Mariella DM

CFA CH. Versus Danae

TICA RW SGC Onocoon Anthony

CFA. ch. TICA QGC. Versus Laetitia

CH Bearcloud Honeymoon

HCM, PKD, PL, HCM DNA N/N.

RW QGC MTNest Jackman

HCM N/N

IW OS SGC Broadsway Redding




RW SGC OD Mainette P S I Love You

Broadsway Gloria

HCM N/N

RW SGC Broadsway Billings

RW SGC Cloistercoon Charlotte
click here


| | |
| --- | --- |
| Inbreeding | 13,9% |
| Top 5 | 70,5% |
| Clones | 36,4% |
| | | | |
| --- | --- | --- | --- |
| SMA | HCM DNA,1, 3 | PKDef PKD | PL |
| N/N | N/N | N/N normal | Neg. |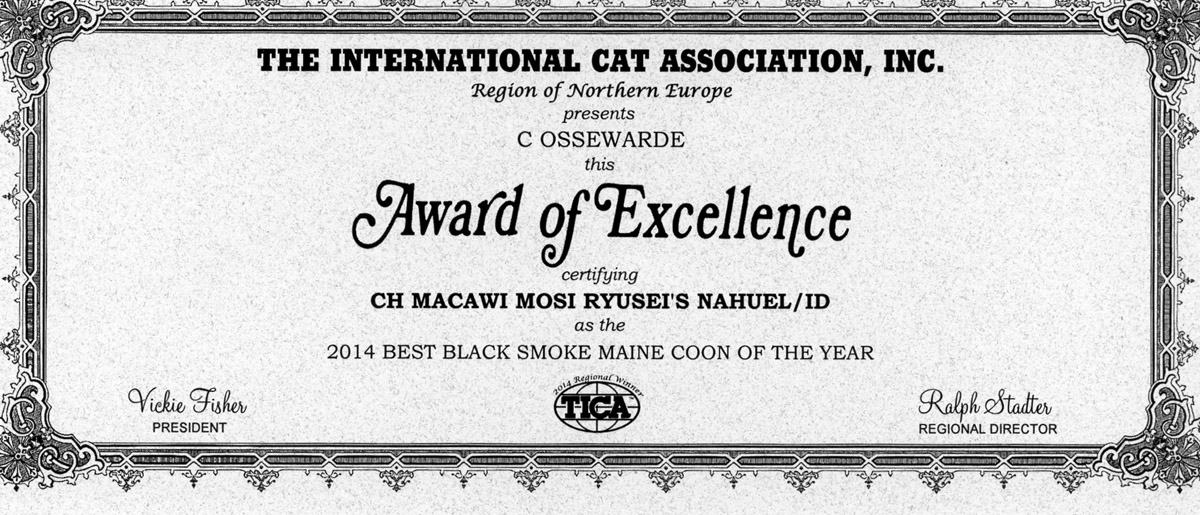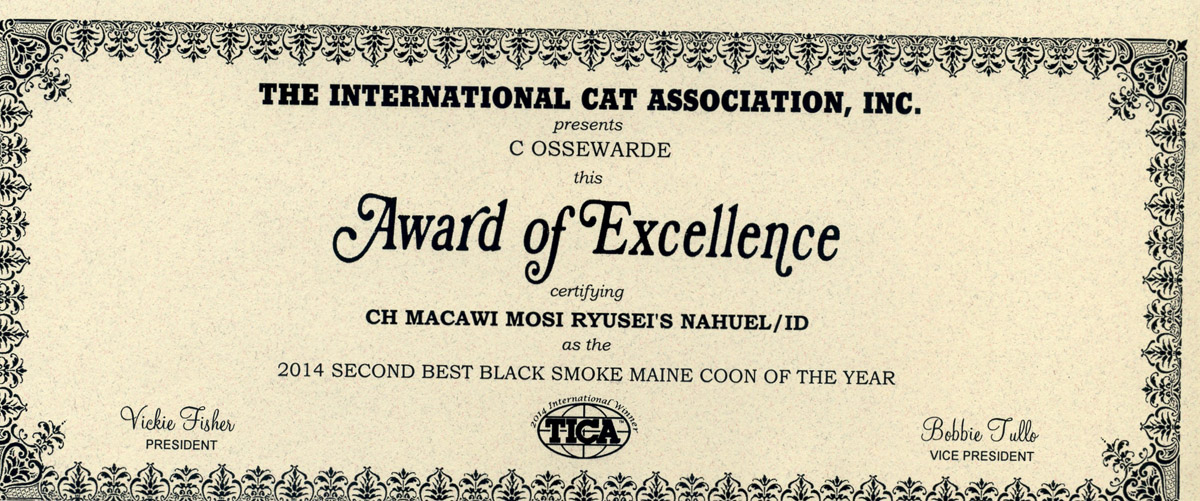 Show results
Show

Result

Judge

21 10 2012 Uitgeest

nestkeuring FIFE


U2


JA.Wittich

27 01 2013 Houten

WW trad.


U1

Nom. BIS


G.Voorhout

31 03 2013 FIFE Apeldoorn


U1

BIV


P.Nyman

22 09 2013 Dordrecht


CAC

BIV and NOM


Loockx

13 10 2013 Ter Aar


CAC

BIV and NOM


Hartman

03 11 2013 Hellevoetsluis TICA


Champion in 1 day!!


23 11 2013 Wassenaar


CAC and BIV

Champion!


E.Neubauer

08 12 2013 Delft


CACIB and Nom.




C.de Boer

26 01 2014 Houten

CACIB and BIV

E. Kuijk

23 02 2014 Leiderdorp

CACIB and Nomination

24 08 2014st Job in t Goor


CACIB and BIV

International Champion.

07 09 2014 Dordrecht

CAGCI and BIV and BIS and BOB

12 10 2014 Ter Aar

CAGCI and BIV and BIS

02 11 2014 Oss

CAGCI and NOM. and BIS

25 01 2015 Houten

CAGCI and now GIC!

15 02 2015 Fijnaart

CACE and nomination BIS

22 03 2015 Veenendaal

CACE and BIV and BIS and BOB. 4the best cat in show!


E.van Kuijk


23 08 2015 St Job in het Goor Belgium

CACE and now European Champion

L.v.d.Wal

CAGCE

J.Eckhoff

CAGCE BIV, Nom.

Krediet

28 08 2016

St Job in het Goor Belgium

25 09 2016 Rotterdam

CAGCE and BIV and Nom. He is now

Grand European Champion

CACM and BIV


de Groot

CACM BIV and Nomination BIS

CACM BIV and Nomination BIS